When it comes to the best and worst foods for kids, usually parents have little bargaining power. There are some obvious healthy food like fruit on cereal and unhealthy foods like a cheeseburger and  fries for lunch every day. Then there are the foods that parents think are nourishing and delicious, but that actually have very little nutritional value and a whole heap of hidden fats and sugars.
Here are ten of the worst foods that you can feed your children when it comes to breakfast, lunches, dinners and snack options…
1. Kids' Breakfast Cereal
Fruit Loops, Cocoa Puffs, Honey Nut Cheerios, you're familiar with the store-bought cereals that are meant to appeal to the sweet teeth of big and little kids as they wander the grocery aisles. These processed cereals are jam-packed with sugar and will only lead to an energy crash sometime after 10:30am. Plus, the recommended serving size of ¼ cup will never satiate your appetite. You're bound to consume double or triple the amount of empty calories and sugar.
2. Bagel with Cream Cheese
you're getting your bagel and cream cheese on the go, you're probably not getting a calorie-conscious, whole grain bagel with reduced fat cream cheese. But if that's what you crave, you can easily cut the calories in half by toasting and smearing your own bagel at home.  Or better yet, skip the cream cheese and use low fat cottage cheese or natural nut butter instead.
3.Fried Chiken
Fried chicken is a popular dish for take out dinners. They advertise that the chicken is cooked at a high heat, preventing the oil from being absorbed. This may be true for the chicken meat, but the breading soaks up all the fat instead. Children love the crunch of the coating on chicken, but baking it keeps the crunch without all the fat. Also watch out for the gravy that is commonly served beside take away fried chicken.
4.Hot Dog
know, hot dogs are kind of a kid-meal must. You can't go to a ball game or have a family barbecue without them, but the typical beef ones are high in sodium and fat - a bad combo for kids (and adults!).
Healthier Choice: For the odd day where a hot dog is a must, switching to a turkey dog will decrease sodium and fat while still being tasty.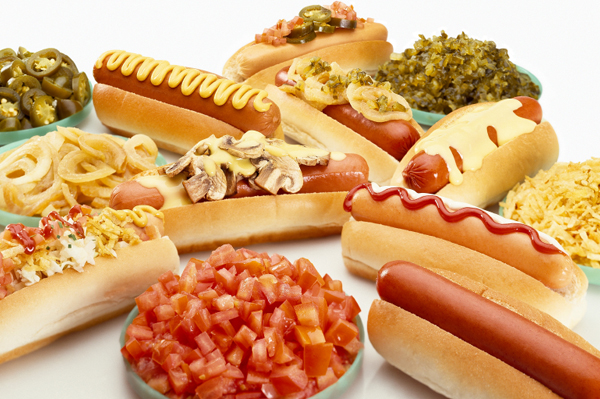 Category :
Health
More :
#Foods
#Need
#SFeeding
#Children